Pulished on Feb. 15, 2020
Barbed wire fence ::
The strands and barbed wires should be made of low-carbon steel wire, and their mechanical properties should meet the requirements of GB343. Each barbed wire has 4 thorns, and the thorn shapes should be regular. ± 20 °, the thorn length L is 16mm ± 3mm, the thorn wire must not be wound less than 1.5 turns, the twisting should be firm, and the thorn shape should be uniform. Product advantages: good anti-corrosion performance, anti-aging, beautiful and elegant, easy and fast installation.
Wavy fence:
Product advantages: good anti-corrosion performance, anti-aging, beautiful appearance. Installation is quick and easy.
Features:
Blade barbed wire, also known as scraper-type barbed wire, is a new type of protective net product with developed protection and strong isolation ability. It is made of steel sheet stamped and wrapped on steel wire (reinforcing wire). It is a combination of sharp sharp-angled galvanized steel or stainless steel sheet as the blade and high tension steel wire as the core wire. The sharp knife-shaped thorns are double-threaded into a bellows shape, which is both beautiful and chilling. Played a good deterrent effect.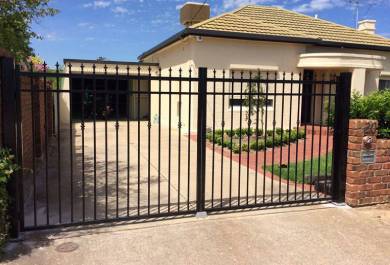 Carbon Steel Welded Fence
Uses:
Countries around the world have widely used blade gill nets for military security, prisons, government agencies, banks; residential community fences, private houses, fences of villas, doors and windows, highways, railroad fences and borders.
product advantages:
1.Easy installation and simple
2. High strength, good overall stability,
3. The colored plastic layer has good anti-corrosion and decorative effects,
4. Net shape color optional strong green, blue, red, yellow, black
Main uses: Widely used in highways, railway landfill sites, railway closures, highway guardrails, development of durable / beautiful / wide field of vision, good protection performance.
Highway fences are the most important transportation infrastructure. China's expressways have been developed since the 1980s, and they have played an important role in the development of the national economy and society. highway mesh panel fencing is an important maintenance and safety guarantee facility for highways.
The rail fence is an important transportation infrastructure, and its safety and practicability are more stringent. The columns are divided into galvanized steel pipes, peach-shaped columns, dovetail columns, and C-shaped steel. The general structure is that the column and the frame are connected by a connecting member, and the mesh can also be directly engaged with the column, bolted and riveted by the connector, and the angle can be adjusted arbitrarily.
We are custom steel fence supplier china. If you have any demand for our products, please feel free to contact us.