Pulished on Aug. 20, 2019
What are the advantages of zinc steel railings compared to traditional wrought iron railings? Following the Mesh Panel Fencing supplier would like to share with us.
Zinc steel guardrail the first advantage never rust, electrophoretic layer imitation enamel process processing to form a permanent coating no matter what kind of environment zinc steel guardrail will not rust.
Zinc steel guardrail second advantage environmental protection since cleaning, zinc steel guardrail using polyester black powder coating so that guardrail products have good self-cleaning function, the product appearance is bright and clean, do not touch dirt, rain wash and spray can be bright as new.
Zinc steel guardrail third dominant color sheng rainbow, zinc steel Welded Wire Mesh Fence with akzonobel powder coating, bright and durable color, can be any combination, to meet the user's requirements for color design.
Zinc-steel profile guardrail fourth advantage device is simple, zinc-steel guardrail unique device only needs a screwdriver can complete the device without welding.
Zinc steel guardrail is a new kind of guardrail to improve the quality of good products.
Because of the zinc steel fence of these major advantages, at present this product has been very popular in the market, as the whole market naive and increase the propaganda, the future zinc steel will be very prosperous industry!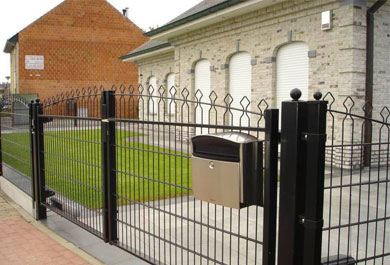 PYRAMID MESH FENCE
Green belt zinc steel fence:
Zinc-steel fence is mainly used for urban green belt such as urban road green belt, park green belt and square green belt. The product has the characteristics of beautiful appearance, strong and practical, and long practical life, which can not only effectively protect the urban green belt, but also bring a beautiful scenery to the city. Our company is a professional zinc steel fence manufacturers, according to the actual situation of customers to produce a variety of specifications, shapes, colors of the green fence.
Green belt zinc steel fence has many advantages:
Beautiful appearance: zinc steel green fence Hot dipped galvanized welded wire mesh raw materials can be used: square, round, oval shape, the overall appearance of the fence can be made into vertical column shape, horizontal column shape, wave shape. And appearance color can be made in the process of electrostatic spraying: white, black, dark green, sapphire blue, yellow, red, frosted color and other more than 100 kinds of colors.
Strong and practical: the production technology of zinc steel green belt fence is mainly divided into two kinds of structures: anti-removing bolt connection and interpenetration combination. Among them, the bolts are made of stainless steel, which will not rust or break. The interpenetration combination structure is stronger than the bolt connection structure. The interpenetration between columns and columns is connected together in an orderly manner. The integrity is very strong and can resist impact and compression.
Long service life: zinc steel greening fence from the selection of the base material to the surface treatment, all attach great importance to its corrosion resistance, zinc steel itself rust resistance and stainless steel equivalent, plus the surface of many spray treatment, can ensure that the green belt fence within 30 years do not fade, not crack, not deformation.